Deluxe Gulets
Our Deluxe Gulets, besides the fact that our guests can find every feature and services available in the luxury category, are specially designed boats built to satisfy every need of our guests. With it's custom design and decoration, Ultra Luxury Guelts hold air conditioning in every room.
The boat is fully furnished with the latest technology equipment. Even if the rental prices are higher than the other ones, Ultra Luxury Gulets ensure you that you will live an experience where money dosen't count anymore.
GULET DEA DEL MARE
10 misafiri konforlu bir şekilde ağırlamakta ve 4 deneyimli ve özel mürettebat tarafından işletilmektedir.
GULET BEDİA SULTAN
35 METRE Yüksek Deluxe Yat Bedia Sultan, 2 Master, 3 Double Kabini ile 10 misafirini rahatlıkla ağırlamakta ve 5 deneyimli ve özverili mürettebat (Kaptan, Aşçı, Güverteci, 2 Komiser) tarafından işletilmektedir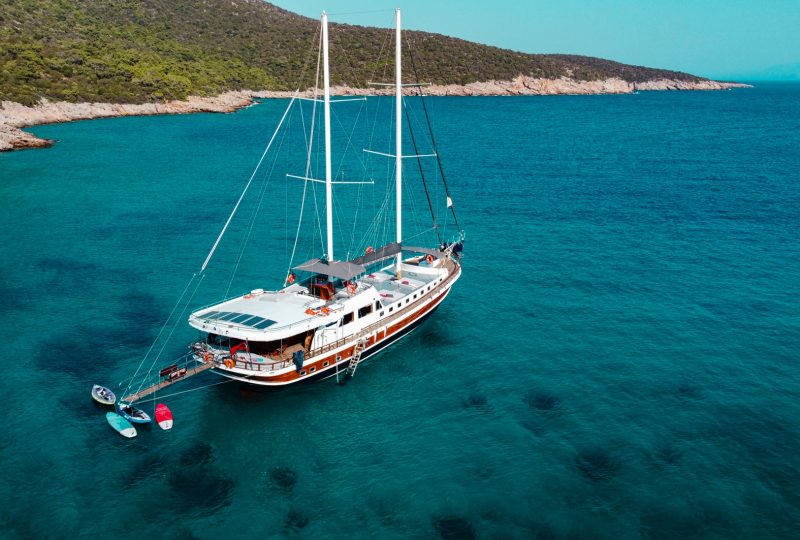 GULET BODRUM QUEEN
Bodrum Queen guleti 1999 yılında inşa edilmiştir. 2020 yılında yapılan bir tadilattan sonra, bugün hepinizin tadını çıkarabileceğiniz son şeklini almıştır.
GULET LORİENT
Lorient is available for charter in Turkey and Mediterranean in summer (May to October)
LUXURY GULETS
Boats in Luxury category have all the features like air conditioning, LCD TV, DVD players and fully furnished navigational devices that will make you feel in security during your Blue Cruise, but also give to our guests the possibility to experience a more comfy and luxurious travel.
With spacious rooms and bathrooms you will feel like you are in a floating hotel.
GULET KAYA GÜNERİ 3
Her birinde duş ve tuvalet bulunan 8 geniş kabinde en fazla 12 misafir için. Tamamen klimalı. 4 kabinde 2 ayrı tek kişilik yatak (twin) bulunmaktadır.
GULET CEMRE 4
Cemre 4, 30.50 metre boyunda, 2016 yılında tamamen yenilenmiş yüksek kaliteli bir Gulettir.
GULET CEMRE JUNİOR
Cemre Junior guleti 2006 yılında yapılmıştır. 2014/2019 yılında yapılan bir tadilattan sonra, bugün hepinizin tadını çıkarabileceğiniz son halini aldı.
GULET GÜL SULTAN
Gulet Gul Sultan has been specially designed to give the discerning traveler the perfect pleasure and the relaxing atmosphere of cruising the Turkish Riviera
Bodrum - Gökova Körfezi
Gökova Körfezi, Kerme Körfezi ya da İstanköy Körfezi olarak da bilinir, Ege Bölgesi kıyılarının güneyinde körfez.
HİZMETLERİMİZ
Düğün Planlama ve Organizasyon
* Özel turlar ve grup indirimleri için : + 90 542 382 53 13
* Bodrumdaki diğer popüler turlar hakkında bilgi almak için: + 90 252 382 85 55
Face To Face Travel
Bilgi İçin Bizi Arayın
Bodrumviptours
Mobil : 0542 382 53 13
Ofis : 0252 382 85 55